INDIKATOR TIMBANGAN

AND / AD 4402
The AD-4402 indicator is designed for batching operations and can also be incorporated into systems using Field Bus such as CC-Link, DeviceNet and PROFIBUS. AD-4402 has almost all the functions, user-friendly operating procedures and software you need for your weighing system.
High-speed sampling (100 times per second)
Internal 1,000,000 Resolution
5 Lines of Weight & Status Displays
Recipe & Sequencing Memories
Standard RS-232/422/485
Option Field Bus Networking--DeviceNet, PROFIBUS & CC-Link
Hopper gate control is done by forecast control mode with 1 msec high speed response
Incorporates recipe and mixing modes
Select from 50+ functions for each of the 11 control inputs and 11 control outputs
Meets Fieldbus requirement by employing CC-Link DeviceNet and PROFIBUS
Large and easy to read blue vacuum fluorescent display (VFD)
Uses a ten key pad and function buttons that are designed for ease of operation and uncerstanding
The main display has a 7 digit VFD with 18mm high characters
The subdisplay has 108, 5mm high characters and shows the values and error comments
Pre-programmed with multiple sequences and functions for filling machines, simple mixing machines and other applications
Stores 100 data for raw materials and 100 data for recipe codes
RS-485 serial interface standard feature allows you to link up to 32 units to the display and supports the Modbus function
The Monitor Function shows each operating interface and provides a confirmation on the display
The compact body meets DIN requirements while minimizing the depth of the indicator to 135mm
With the proper optional interface, the AD-4402 is compatible with CC-Link, DeviceNet and PROFIBUS
2 year warranty
Applications
AD-4402 can be incorporated in various applications that integrate complex systems, thereby facilitating a wide variety of sequences, such as basic filling/discharge, recipe, mixing, compensation and preliminary sequences.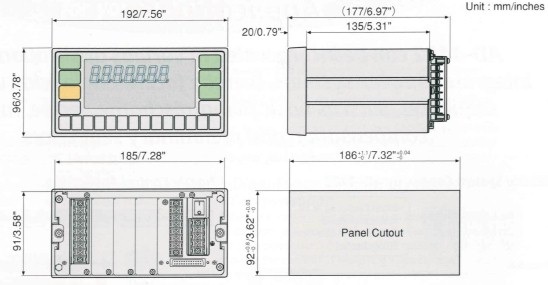 Specifications
Analog Input and A/D ConversionLoad cell excitationZERO Adjustment RangeInput SensitivityZero Temperature coefficientSpan Temperature coefficientNon-LinearityInput noiseInput ImpedanceA/D Conversion MethodA/D ResolutionMaximum Displayed ResolutionA/D Conversion Rate
10 VDC ±5% 230mA, Remote Sensing (up to 8 load cells at 350/load cell)
0mV - 20mV
0.3µ V/D
0.02µ V + 8ppm ofdead load)/°C (typically)
±8ppm/°C reading (typically)
0.01% of full scale
less than ±0.6µ Vp-p
10M ohms minimum
Delta Sigma
1,000,000 counts
16,000 counts (this limitation can be bypassed)
100 times/second
Digital SectionMain DisplaySub DisplayStatus Display / Symbols
7 digit, 7 segment blue fluorescent display, 18mm character height
54 digit, 7 segment / 5 x 7 dots (54 digits)
8 displays, 10 symbols (5 x 7 dots)
External Output SectionControl I/OStandard Serial I/F (ch.1)Standard Serial I/F (ch.2)
Inputs 11, Outputs 11
RS-485 (terminal)
Current Loop (terminal)
GeneralPowerConsumptionOperating temperature rangeOperating HumidityWeightDimensions
AC 85V - 250 V, 50/60 Hz
approximately 30VA
-5°C - 40°C (23°F - 104°F)
Less than 85% RH (non-condensing)
approximately 4 lbs (1.8 kg)
7.32 w x 3.62 h inches (186 x 92 mm)